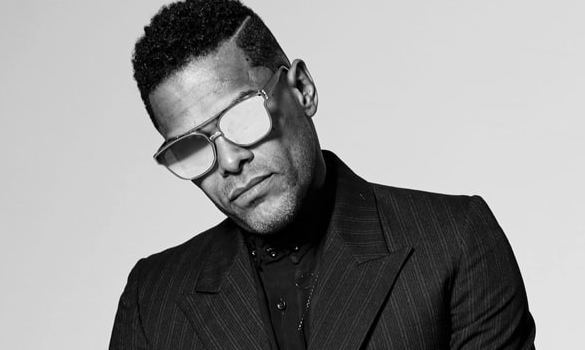 You may know Gerald Maxwell Rivera by the singular stage moniker of Maxwell, and, if you're familiar with his work, you may also know that he is one of the founders of the neo-soul and R&B movement we still hear to this day. Since he began making music at the age of 17, Maxwell has mastered the art of being a multi-instrumentalist, singer-songwriter, producer and now has five studio albums under his belt. However, it's his 1996 project Maxwell's Urban Hang Suite that got him dubbed as the "Marvin Gaye of the '90s."
This past week, and nearly two years after his most recent studio album, blackSUMMERs'night, Maxwell released the short film, The Glass House, to coincide with his single, "We Never Saw It Coming." The video, however, takes a different approach than his previous work—one that he says was inspired by conversations with artist and activist Harry Belafonte.
In the short film, Maxwell plays house alongside Yomi Abiola and their on-screen child in a lavishly extravagant abode overlooking the hills and city below them. And while everything seems peachy at first, we are quickly shown that disaster is on the horizon.
"What are you saying?" asks Abiola, in her heartbreaking monologue at the start of the video. "I don't understand. We should have loved more. We should've loved harder. But I guess none of that matters now, it's too late."
Maxwell describes the visual as a representation of our "self-absorbed" society. The luxurious living that the couple has acquired means nothing as emergency broadcast warnings and police sirens scream in the background. As the family awaits the apocalyptic events, they realize that their love was all that really mattered.
We know that Maxwell is no stranger to creating visual pieces and putting just as much emotion into his visuals as in his music. Not to mention, the soulful singer has been in the game for over two decades now, providing fans with more than just a handful of hits. And while we can't take you through every elaborate work he's done, we've gathered a few of Maxwell's most notable visuals into a timeline of his revolutionary rhythmic history.
Sumthin Sumthin — 1996
This uptempo tune features a young Maxwell as he takes a cab ride with a frazzled cab driver and some interesting passengers. Yet, the singer is unfazed when a love interest joins him on the ride. The song's punchy bass and flirty lyrics will surely have you dancing along with the video's riveting characters.
Get to Know Ya — 2001
The video features loving couples "getting to know" each other in places such as rooftops, car garages and even couches, but our favorite part is the full band jam session in the studio. With over 5.2 million views on YouTube, the visual is sure to encourage you to get to know someone a little bit better. 
This Woman's Work — 2002
Although the song may be a cover of Kate Bush's 1989 original, Maxwell's visual for the track was convincing enough for us. The 2002 music video is a bit more avant-garde than his other projects, but is successful in telling a beautiful story about a lost love, making it one of our favorite Maxwell projects.
Bad Habits — 2009
Not to say that this music video reigns over the rest, but it does feature the very seductive Kerry Washington, and who can top that? The only bad habit we've developed is watching the steamy visual more than we'll admit. 
Pretty Wings — 2009
If you don't agree with our love for Maxwell's "Pretty Wings" visual, just ask the other 43 million YouTube viewers who've loved it too. The dim-lit visual features five women all of who seem to be infatuated with the neo soul master as they roll around in the sheets, but can you really blame them?
Fistful of Tears — 2010 
This black-and-white performance gives us a solo view of Maxwell in an intimate on-camera production. The visual's staging gives us soulful 1920's vibes, and, while we usually enjoy the videos with gorgeous women, seeing Maxwell one-on-one reminds us of his unbelievable talent (and the good looks help, too).