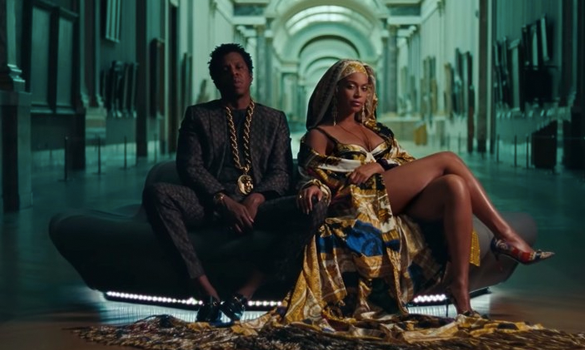 If you still had doubts about Beyoncé and JAY-Z's relationship or success, Everything is Love will surely put those doubts to rest. After months of fans blindly anticipating a new album, the couple dropped their joint project over the weekend and it needed no introduction. Following the narratives of Bey's Lemonade and Jay's 4:44, Everything is Love acts as a musical trilogy.
With Lemonade, we were introduced to a new side of the Carters that we hadn't been exposed to before. Touching on topics of fury, distrust and betrayal, Beyoncé came forward about her husband's infidelity, its effect on their relationship and her own identity. The album was worshiped by many, and fans applauded Queen Bey for allowing herself to be vulnerable while still proving to be a strong woman with plenty of self-respect.
4:44 also showed JAY-Z in a new light. In the album, the rapper addressed a number of personal issues that had been exposed to the public, in addition to the topic of his infidelity. The project was perceived as a response to his wife's work and it was clear that he conveyed a sense of guilt and remorse over his decisions as a husband and father through his music.
However, the Carters weren't going to leave out their happily ever after. Everything is Love serves as a celebration of their marriage, family, musical careers, financial successes and cultural impacts. Both are unapologetic when it comes to their riches and who can blame them? They've been through it all and still came out on top.
In order to pay respect to the album and the legacy that JAY-Z and Beyoncé have created, we decided to rank the album's tracks from best to worst. And believe us, it wasn't easy.
1. LOVEHAPPY
This track may be the last on the album, but it's the first on our list for many reasons. The song features unapologetically honest dialogue between the husband and wife, referencing the issues that fueled their two previous projects.
"Yeah, you fucked up the first stone we had to get remarried / Yo, chill man / We keepin' it real with these people, right?"
Beyonce's soulful chorus outs the couple's flawed yet demonstrative relationship, proving to haters that the two aren't rescinding on their love for one another regardless of the struggles they've had to endure.
2. BOSS
Contributing to the project's theme of proud superiority, "Boss" further proves that Beyoncé and Jay are moguls that can't be touched. JAY-Z takes a verse to explain that their hundred million dollar estate is just the start of their empire, and their success is only measured but how many other successful people stand next to them. One of the song's most notable lyrics, cleverly delivered by Bey herself, touches on the fact that the Carters have so much money that their "great great grandchildren already rich."
3. APESHIT
If "Boss" isn't enough to convince you of their accomplishments, the album's first single, "Apeshit," definitely does the job. The dynamic synth beat behind the lyrics, which is attributed to the couple's friend and producer Pharrell Williams, enhances the song's haughty importance. If the tune alone isn't enough, the visual that was released alongside the album will put things in perspective. The pair rented out The Louvre (the Paris museum home to the Mona Lisa and other historical masterpieces) so they could film the song's music video. How much money would that have cost them? Well, a lot. But it couldn't have been more than the 40 million dollar private jet that Bey gifted Jay for Father's Day, which is also referenced in the single. 
4. 713
Staying true to her hometown of Houston, Beyoncé pays tribute to her roots with the album's fifth entry. She even includes her own interpolation of a snippet from "Still D.R.E.," a Dr. Dre and Snoop Dogg anthem that JAY-Z wrote years ago. Jay also took to this track to explain the start of his and Bey's relationship, using an entire verse to describe their first meeting in 2000 and their first date two years later. The song is a compelling and reminiscent tale of the first stages of their love and where they came from.
5. NICE
Much like the rest of the project, "Nice" provides even more reasoning for the Carters to be defyingly arrogant. But instead, they insist that they're actually pretty, well, nice. The buoyant beat, also provided by Willams, conveys an empowering message of capability and power. The tune will make you believe, in Bey's words, that you really can do anything. But just because they are determined to be friendly, doesn't mean the Carters can't take a jab at haters for staying committed to their partial ownership of their music streaming service, Tidal, either.
"If I gave two fucks about streaming numbers, I would've put 'Lemonade' up on Spotify."
6. BLACK EFFECT
Arguably one of the more important songs on the offering, "Black Effect" celebrates the abundance of black excellence that the Carters radiate. Not only are the husband and wife successful moguls and artists, but they accomplished their dreams despite the hate and adversity that African Americans face every day simply because of their skin color. Both JAY-Z and Beyoncé serve as role models for young African Americans who want to achieve similar successes, and they don't plan on stopping yet.
7. HEARD ABOUT US
While we could go into great detail about this entry alone, the title is pretty self-explanatory. "Heard About Us" is built on a funky melody and provides an interpolation of Notorious B.I.G.'s "Juicy." Both songs narrate stories of artists who come from little to nothing, but still end up on top of the game. Again, Bey and Jay are staying true to the album's overarching message when they sing, "no need to ask, you heard about us."
8. SUMMER
The album's first track provides a sultry sound that emits feelings of love and affection, which is nothing new for the Carters. The ballad is sure to put you in a mood for summer love and sandy beaches, especially with its references to JAY-Z's "Beach is Better" and Bey's "Sandcastles."
9. FRIENDS
Leave it to JAY-Z and Beyoncé to dedicate an entire song to their close circle of companions who have held it down throughout the years. Aside from gifting them expensive cars and trips around the world, the couple truly wanted to say thank you to those who've helped them through both personal losses and over-the-top celebrations. While Bey doesn't name drop any of her besties in particular, Jay gives shout-outs to plenty of his longtime friends, such as Tyran Smith, Emory Jones and Jay Brown. However, we did notice one famous friend missing from his list. Perhaps things are still rocky between him and Mr. West?